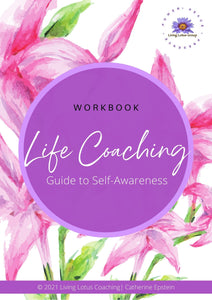 Living Lotus Group
Life Coaching Workbook- Guide to Self-Awareness and Self-Discovery
Regular price
$ 7.00
$ 0.00
Unit price
per
"The quality of your life is determined by the quality of the questions you ask" Tony Robbins

This is very true- and as a Transformational Life Coach- I'm trained to ask the deeper questions.
Instead of asking questions that are disempowering, such as "why is this happening to me?"
Begin to ask the questions that will bring about the changes you desire.

If you've been wanting to begin to make changes in your life, but don't know where to begin-I've created this workbook just for you.
It's designed to lead you through a process of self-inquiry and self-discovery.
If you've been feeling a bit stuck and don't know what your purpose is- then this workbook is perfect for you.

Through a series of thought-provoking questions, you'll be guided on a journey to your deepest and inner-most self.

SAMPLE QUESTIONS:
1) "What do I want to contribute to the world?"
2) "How can I serve the greater good?"
3) "What are the things I'm most passionate about?"

By asking yourself these questions, (and more)- you'll begin to be a conscious creator in your life. You'll begin to embrace your own gifts and talents- and to see how you can positively impact the world around you!

Get started on your journey to self-discovery today!
---