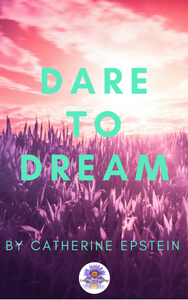 Living Lotus Group
Dare to Dream: E-Book by Catherine Epstein
Regular price
$ 47.00
$ 0.00
Unit price
per
DARE TO DREAM is Catherine Epstein's playbook for creating conscious change and manifesting the life of your wildest dreams!
The twenty page e-book contains eight steps for realizing your higher purpose and moving forward on the path to making it happen; also included are recommended crystals for each step; case studies and testimonials from past clients who've embarked on the path of conscious creation; exercises to visualize your greatest future; and a CREATE CHANGE worksheet to help you define your goals. 
Can't make it to a workshop? This E-Book is designed as a stand alone self-study guide.  It will help you lay out all the steps to you need to take to live the life of your dreams!
This from a recent workshop:  "I wanted to let you know I learned from your presentation about the things I need to reflect on so I can come up with direction, then a plan, to go down this road. Thank you for an amazing evening!" 

Learn the 8 steps of manifesting the life of your dreams through the art of conscious creation. You'll learn to visualize your future, and the 8 steps that can help you organize, clarify, strategize and set goals; helping you bring your visions into reality.
If you desire change, but are feeling overwhelmed- this workbook will give you the tools to move forward.

Who can benefit? If you are:
-in a transition phase
-looking to start a new business
-wanting to add more joy and balance
-looking for a fresh start to life
-feeling overwhelmed and need to organize
-ready to make healthy lifestyle changes

Join this fun and informative workshop!
"If you have built castles in the air, your work need not be lost; that is where they should be.               Now put the foundations under them." ~Henry David Thoreau
 CLICK THE ADD TO CAR BUTTON BELOW!
---